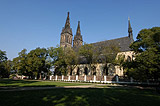 Vysehrad or the "Castle on the heights" is a beautiful place to visit any time of day or season. To get into the essence of the place you need to take a walk through the huge, beautiful park that covers the area. From the underground station "Vysehrad" follow the signs saying "K Rotunde" and the Church of ST. Peter and St Paul. As you pass the Tabor Gate you will see the ruins of a former fortification of the place built by Charles IV.
View at Prague from Vysehrad.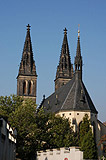 Maybe more impressing than the beautiful park and historic buildings will be astonishing views over Prague, the bridges over Vltava and the Prague Castle.The best viewing points are from Gothic ruins of Libuses's Baths. Walks at sunset and by night will have a guaranteed effect, so be sure not to miss out on them!!!
Recommendation: If you chose to see Vysehrad by night, it's better to be with someone that knows the place, or to have gone there some time before, at daytime, so that you can better orientate.
For more pictures see Vysehrad photo gallery
Address:
Vyšehrad National Cultural Monument
V Pevnosti 159/5b
CZ 128 00 Prague 2
Czech Republic
How to get there:
By Metro: take red line C to stop "Vyšehrad"
By Tram: take No. 7, 8 or 24 to Albertov, or take no. 3,7,17 or 16 – Výton.
Phone:
+420 241 410 348,
+420 241 410 247
The plan of Vysehrad grounds will help you get around easier.