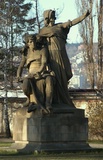 Princess Libuse (read "Libushe") was the daughter of Krok and as legend has it, she had visionary powers.
She became the first woman to rule Prague and married a humble ploughman Premysl. Together they started the Premyslid dynasty that would rule for 400 long years.
Libuse is said to have foreseen the seven hills of Prague growing into a marvellous city (which indeed happened), thus she's considered to be the mother of beautiful Prague.
For more pictures see Princess Libuse photo gallery