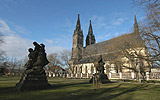 The Church of St. Peter and St. Paul (Chram Sv. Petra a Pavla) looks a lot like the Cathedral of St. Vitus from the Prague Castle and it certainly dominates the heights at Vysehrad.
It's construction dates back to the 11th century from the times of Vratislav II, when Vysehrad used to host the Czech princes and princesses.
The most recent reconstruction was done in 1895 in Neo-Gothic style by Josef Mocker. The Church is not impressing just from the outside, but the interior is also worthwhile seeing and can be visited.
For more pictures see St. Peter & Paul Church photo gallery