Banks of Kampa Island are washed by water of Vltava river on the one side and on the other one by the Devil's Stream, which separates it from the Lesser Town. Devil's Stream was created in the 12th century as a millrace. This thus makes Kampa an artificial island. Its beauty is as real as it can be, though.
Devil's Stream and its name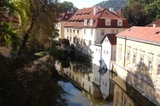 Devil's Stream got its name thanks to one "lovely" (note the quotation marks please) lady living nearby in the Seven Devils House. The woman had such a wicked tongue and temper that she did her house's name credit and gradually her nickname became associated with Vltava's innocent branch.
The use of the Devil's Stream as a millrace suggests that first buildings appearing in the area were mills. At present there are three of them and two have still their mill-wheels. The most famous one is the Grand Prior's Mill with its totally restored wheel measuring impressive eight metres. It is the one painted on all the romantic pictures you admire in art galleries. In the case you want to compare the paintings with the reality, you can take the artists' view from the Charles Bridge.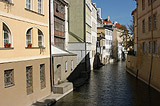 You might also hear someone referring to this area as "the Venice of Prague". Well, you would seek gondolas in vain but the atmosphere is just as lovely.
Kampa then and now
Had you lived in the medieval times, you would have found only gardens on the entire island. A park designed in the English style can be found at the southern end of Kampa still nowadays whereas the northern part has Renaissance houses and a Baroque palace.
The very first buildings to appear here were the homes of bricklayers, carpenters and stonemasons so that they could comfortably keep an eye on Charles Bridge and maintain it in a perfect state. The square surrounded by these houses is the place where pottery used to be sold regularly. Kampa was namely also a place, where traditional pottery markets took place for centuries.
How to get there:
The best way is to enjoy a walk over Charles Bridge in the direction to the Lesser Town and then walk down the stairs to Kampa. In the case you would like to come from the south, the best way is to take a tram to Ujezd (6, 9, 22 or 23) and walk down Ricni Street that will take you to the Devil's Stream.