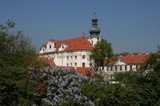 Benedictine Archabbey of St Vojtech (Adalbert) and St Margaret (alias Brevnov Monastery) was the first friary in Bohemia.
What about its name…?
Its name is derived from a Czech expression for rough-hewn timbers. They lay scattered around the place of future monastery and were used for foundations of a village nearby, which suggests that you are reading about one of the oldest inhabited parts of Prague.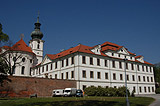 According to another explanation, the timber was floating in the well, at which the founders of the monastery met. The calendar was showing the year 993. One of them was, as the name suggests, Vojtech, the second Prague bishop – later to be canonized, from a dynasty which was seen by the ruling Premyslids with rivalry. He resigned because of the conflicts, left and entered into a Benedictine monastery in Rome. He returned on request of the Czech prince and the Pope and brought Benedictine monks with him.
If you prefer the second version more, you can see the well in the monastery garden. Why not to also take a look at the Baroque summer house Vojteska, when you are already there?
A bit of history: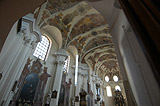 The monastery was rebuilt several times due to a fire but also because of plundering and looting during the Hussite and the Thirty Years' Wars. Its current Baroque appearance stems from the eighteenth century, when the style was at its best. If you take a look at the gateway and the buildings surrounding the great court, you must admit that the architects such as the father and the son Dientzenhofers did a lovely job.
This is even more so in the case of the Church of St Margaret with the interiors decorated by the works of the famous painter Brandl. It is interesting to note, that this is the very first Prague church that received from the Pope the honorary title Basilica Minor.
How to get there: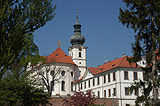 The address of the monastery is Marketska Street 28, Prague 6 and to get there easily you can hop on the tram number 15, 22 or 25 and wait for the name of the station Brevnovsky klaster.
For more pictures see Brevnov Monastery Picture Gallery