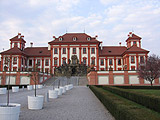 Troja chateau is situated in a splendid part of Prague, Troja, surrounded by beautiful gardens and the Vltava river. Troja chateau is called after the impressive garden staircase of the villa with statues depicting the battle between Olympic gods and the Titans. People connected in their mind the battle with the conquest of Troy. And another interesting connection. The reconstruction of Troja chateau took 10 yeast as well as the siege of Troy.
The reconstruction started in 1678 and was stopped by a plaque epidemic in 1685. The second phase of the reconstruction focused on the decorations of the interiors. The architect of Troja Chateau, Jean Baptista Mathey, was inspired by great villas in Italy and built one of the best summer houses to the north of Italy. The owner of the chateau was Count Sternberg, a member of a leading Bohemia aristocratic family.
The chateau has changed many owners. One of them was even Maria Theresa. Alfred, Prince of Windischgratz, renewed the vineyears in Troja. Troja chateau then had large wine cellars. It's said that there used to be a huge cask of wine, the second largest in Bohemia. The last private owner was Jan Svoboda who gave the chateau, decayed at that time, to the state. The chateau was renovated and, since 1989, it is used by the City Gallery Prague. The gallery placed there collections of paintings, early printed books and maps of Far East.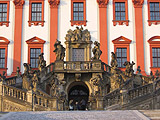 The most remarkable things about Troja chateau are the garden staircase and the decoration of the interior (Sternberg decorated even the interiors of the stables!). The main garden staircase leads from the garden to the first floor. The terrace is supported by two giants, the staircase is decorated with statues representing heroes of Greek mythology. The interior of the Grand Hall is adorned with fresco by Abraham Godyn. The fresco are considered to be one of the best examples of Baroque painting.
Address:
U Trojskeho zámku 1, Prague 7
How to get there:
Go by metro to the station Holesovice, then continue by trams 5, 17 or 25 to the stop Trojska or by bus 112 to the stop Zoologicka zahrada.
Opening times:
Saturday & Sunday 10:00 – 17:00
Admission fee:
Basic 100 CZK, reduced 50 CZK, family 200 CZK
For more pictures see Troja Chateau Gallery