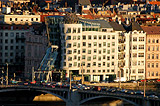 Prague is not only the capital of the Czech Republic but first of all a highly cultural location. No wonder it has been called for centuries the "heart of Europe" and that not only because of geographical features. The 100 spires city was the home of many world renewed artist among which we could name the unforgettable W. A. Mozart, F. Kafka, A. Mucha, A. Dvorak, V. Burian, J. Werich and the list could go on and on …
Prague is the city of poems, music, alchemists, in one word, it's magic. Enter it's mystical world, let yourself chanted by it's beauty hidden in the hundred years old tradition of painters, writers, composers and actors. Open your heart to it's beauty and its secrets will reveal.
For the time being we have listed just the most popular Prague museums and places of interest. According to your reactions, we will include more and more cultural places.