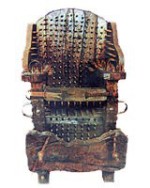 Heretics, witches, state enemies, all tortured or burned at the stake. Or both. It might sound morbid, but the Inquisition and torture is part of Europe's history. To be sincere, the experience of visiting the Torture Instruments Museum is one that can have a powerful effect on any person.
I guess it doesn't even matter WHY you want to visit this museum: out of curiosity or just because you are interested in history. The result is almost the same every time: one gets to thank Heavens they weren't born in the 20th century and not in those times.
The exhibition contains over 60 torture instruments with explanations of the torture practices in English and other international languages. So, if you have ever wandered how a chastity belt (for Her or for He) looked like, just pay a visit to this museum.
| | |
| --- | --- |
| Address: | Křižovnické nám. 1/194, Prague 1 |
| Phone: | +420 723 360 479 |
| E-mail: | torture@post.cz |
| Opening hours: | daily 10:00 – 22:00 |
How to get there:
Tram No. 17 or 18 to the stop Křižovnická . The museum is situated next to the McDonalds' on the way to the Prague Castle.
16 March 2006 11:44 AMelena