The Museum introduces itself: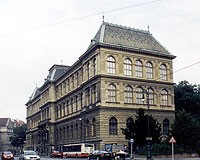 bq. The Museum of Decorative Arts in Prague collects and preserves for future generations — in both national and international contexts — examples of historical and contemporary crafts, as well as applied arts and design. We believe in harmony between function, quality and beauty; our ambition is to inspire, educate and entertain in a unique way.
The Museum of Decorative Arts is located in the Jewish Quarters of Prague. The setting cannot be more perfect – the most beautiful buildings of Prague are in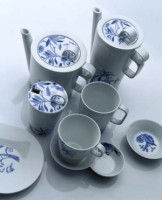 the Old town. The building itself was finished in 19th Century in neo-renaissance style, which by its rich design fulfills representative demands. Its decorated ceilings and historic furniture makes impression that the place matters.
There is a small cash desk at the entrance, selling 'bit different' souvenirs. Designed objects and beautiful posters. The entrance fee is affordable, also there is a very very cosy café, visited by artists, so when you are close to Charles bridge, the café is the best choice – all the other cafés in that area have double or triple prices.
But let's go on – the ground level shows different exhibitions every month or two, either by design students or renowned artists, but tries to differ from other exhibitions by its… hm… usability? How to say it… they try not to be boring.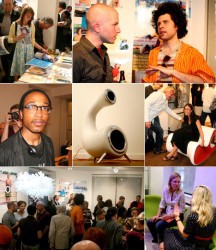 The second floor features permanent exhibitions. Rich and wide selection of exhibits from the late antiquity till the present day. There are: The Story of Fibre – The Textiles and Fashion Gallery; Print & Image – The Applied Graphic Arts and Photography Gallery; Born in Fire – The Glass and Ceramics Gallery; Treasury – The Metals and Miscellaneous Materials Gallery; Time Machines – The Clocks and Watches Gallery and also a newly exhibited tapestry called "A Side View", created by the Moravian Tapestry Workshop.
The second floor also features different exhibitions, but that I would call 'traditional exhibitions' that can be entertaining when you are… well.. older? But you can make it more interesting simply by looking from windows, because there is a Jewish cemetery right below the building at one side and Charles Bridge at the other side.
What to say more? The Museum of Decorative Art is worth seeing. Beautiful building, setting, rich exhibitions for small fee. And close to everywhere in center.
Museum of Decorative Arts in Prague / Uměleckoprůmyslové museum v Praze
Prague 1, ul. 17. listopadu 2 (the name of the street is 17. Listopadu, tha number is 2.) (17. Listopad is the day when Czechs started fighting the USSR oppression)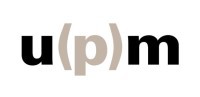 tel. +420 251 093 111, fax +420 251 093 296
info@upm.cz, www.upm.cz
Open yearly Wed-Sun: 10 am-6 pm, extended opening hours every Tue 10 am-7 pm (every Tue 5 pm-7 pm.free entry), closed Mon.