The Secrets of the Charles Bridge Revealed by the Museum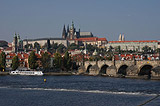 The Museum of Charles Bridge and got the new exposition ready; it brings information about its history, but also about building and reconstructions of the unique sight.
The new exposition of the Bridge brings new views of the building history. On the area of more than 100 cubic metres is i.e. an analysis of building materials used for it, in such depth which has never been done; "The museum has finished the most expensive and most precise scientific analysis of mortars, taken from inside of the Bridge." says the museum director.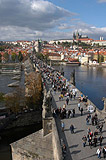 The midpoint of the exhibition is a newly made model of the bridge in 14th century, depicting its constructing, material transport, building machines and even 350 workmen in working clothes with their instruments. Constructing of the model took a year and a half, it is a masterpiece like no other in the whole republic, in its detail and accuracy.
Reconstructs also took, by a special technology, local stonecutters' marks. Those are hidden to an ordinary pedestrian, as they stayed visible only at places of water level, than in the Old Town bridge tower and on the bottom side of the bridge arches. The most interesting marks are displayed in the 'touch' part of the exhibition, intended for the sightless.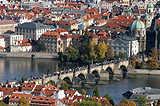 The exposition is, above all, going to remind the complete history of the bridge, with all the repairs, and historic events connected to it.
Thanks to cooperation with the National Film Archive were found some interesting documentary movies about the monument, and you can watch when in the museum. (Nowadays, the Czech TV cooperates with the museum making new films, the first one about the famous matter of yolks, which should be possible to watch in 2009)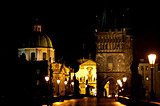 Do you know the old Prague legend? Charles IV. ordered to add egg yolks to enrich the mortar used to bind the stone blocks to make it harder. The museum presented the outcome of latest scientific research, which had the aim to finally find out the truth about eggs in Charles Bridge mortar. So … we don't have to say according to the legend anymore – it was proven he really ordered to put eggs to the Charles Bridge.
The scientists deeply scanned the calcic mortar from 14th century, found out there are egg proteins.
Charles Bridge is the memory of the most prosperous era of Bohemia during the region of Charles IV; Czech kingdom was on the top of political, cultural and social life. Prague was in the middle of 14th century one of he most populated metropolises of the world. In 1378, Prague had 40 000 citizens.
Adress:
Charles Bridge Museum
Krizovnicke namesti 3
110 00 Prague 1
Tickets:
Regular: 150 czk
Family ticket: 320 czk
Students, seniors: 70 czk