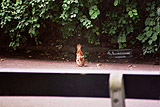 In case you didn't know what to do to kill some of the little monsters' energy, maybe a walk up to Petrin Hill would be a good idea. Even if you choose to take the funicular instead (it would not be a bad idea either), you could any time go and chase the cute squirrels living in the neighbouring trees. They seem to love candy and crackers but are still quite timid to accept direct contact with their admirers.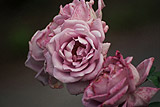 The huge Rose Park on Pertin Hill is a great place to spend an unforgettable afternoon or evening in a quiet and beautiful atmosphere. The Rose Park is unfortunately limited by the climate in Prague that is by the colder season. Even so, winter offers its own attractions: play in the soft snow or walk along the frozen, white alleys. Even the air is different in the winter: it's clearer, fresh and will put our kids' blood circle faster.
Spring, summer and autumn have their charm of course: the combinations of colours are simply unforgettable. A park remains a park and has its ways of looking beautiful and mysterious in every season.
Other things to see on Petrin: Mirror Labyrinth, the Observation Tower, the Planetarium, the Rose Park.
For more pictures see Petrin photo gallery