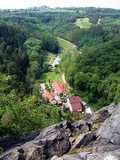 A natural reservation just 30 minutes from Wenceslas Square? Believe it or not, it is true. Creeks, rocks in different shapes and water flowing between them, mini waterfalls and even a small canyon unfold their mystical beauty on the huge surface of Divoka Sarka (Sharka the wild).
In the middle of the immense park there is a natural lake called "Dzban" (The Jug), a natural swimming pool where one can also go for a swim, that is if he/she doesn't mind the coldish water.
Visitors can not only wander along the paths through the small forest, but can also find their way up the rocks and enjoy a wonderful view of the entire place.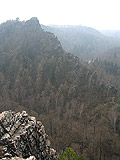 Roller blading, hiking, cycling, jogging, sunbathing, and even trivial walks with your dog and discovering the hidden beauty of the nature are just a few of the activities that can make your day an unforgettable one.
Amongst the places worth mentioning is a terrace where you can sit at and have some good old Czech draft beer and grilled sausages. And that is not the only one refreshment places nearby.
How to get there
Metro Green line A to Dejvicka and then change to Bus 119 to "Divoka Sarka" stop.
Trams No. 20, 26, to the ending stop: "Divoka Sarka".