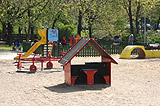 If you just want to get out of the crowded tourist areas and leave your kids "unleashed" for a little while, take a look at the best parks and playgrounds staded below. They are just a few of the many options Prague offers you. Feel free to explore it on your own.



Certovka
A small, yet very pleasant park at the western end of the Charles Bridge, with a playground and sandpit for children. It is open every day from 8 am to 5.30 pm and the area is fenced off, so you don't have to be afraid that your offspring will get lost in the city.



Franciscan Garden (Frantiskanska Zahrada)
The Franciscan Garden situated in the close vicinity of the Wenceslas Square is a superb oasis of beauty and silence. Not many tourists know abut its existence or don't have enough time to discover it during their longer or shorter stay in Prague.
Praguers know it well, though and don't miss any chance to pay it a visit. They come here in their lunch break, with they kids, girlfriends or just because they were passing by.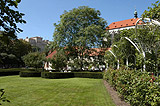 Even if all time quite crowded, the Franciscan Garden still remains the perfect place to rest your feet and take a break from the hustle and bustle of the Wenceslas Square and the boutiques around.
So, don't miss out on the nice alleys decorated with roses and herbs originally cultivated by the Franciscans in the 17th century. Especially if you're here with your kids, you will definitely appreciate the playground set up in the peaceful courtyard of the marvellous Franciscan Monastery.
And, as a bonus, you can buy one of the tasteful ice creams sold by the local stands.
Read more about the Franciscan Garden.
Other parks: Divoka Sarka, Petrin Hill.