The Vltava river in Prague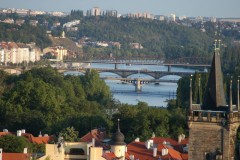 To the atmosphere of the capital city belongs essentially the river Vltava. This longest river in our republic is separating the city on two almost same parts, eastern and western. Vltava rises in Sumava, where it is starting as a small babbling stream, which we would hardly find in Prague. After more than one hundred kilometres it becomes huge and respectable flow with smooth and majestic surface. But this shouldn´t calm us with the hope that the Vltava is a rival that doesn´t deserve our respect. Proof of this fact is a flood which repeats regularly, destroying bridges, swamping cellars and ruining buildings. In history a high water was big threat, and even modern times with its all available technologies loses this fight with the nature in the end. The most destructive flood happened in 2002 and some places in Prague are healing from its results up to this day.
Let´s leave this joyless theme and get over to some basic facts. Vltava is starting its way in the southern part of the Prague, then continues almost straight to the north.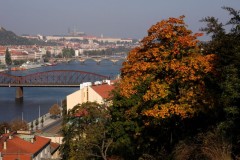 In the historic centre of Prague, between the Old and New City, with Hradcany on the left, it suddenly turns to the right side. After several kilometres of eastern direction it again vehemently turns back, makes heavy curve and in Troja changes the direction again and continues to the north. It´s interesting to have a look on the Vltava flow on the map, it looks like the "adult" river wants to gambol a little, to make something unexpected before it leaves the Prague after couple of kilometres, and ends the long way. Near the city of Melnik pours to another czech river Labe. Or Labe pours to the Vltava? Oficially not, but many Prague patriots think so and looks for confirmative facts.
Both sides of the Prague, which is Vltava cutting through, are connected with twenty bridges. On Vltava river are also many islands, swimming and bathing possibilities and other sport activities. Vltava has inspired many world artists to glorious production.
The Trojan Horse in Prague The assassination of Reinhard Heydrich