The assassination of Reinhard Heydrich
Do not miss the exhibition which is held only until August 31 in Libensky zamek. This exhibition commemorates the 65th anniversary of the heroic act of Czech parachutists who succeeded in killing Reinhard Heydrich, a high-ranking Nazi official of grand importance during World War II.
Reinhard Heydrich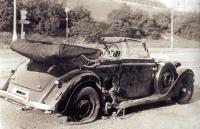 Reinhard Heydrich was an immensely influential Nazi, a leading planner of Hitler's Final Solution. He was one of Hitler's most ruthless Nazis. Heydrich was even considered a possible successor of Adolf Hitler. His nicknames "The Butcher of Prague", "The Blond Beast" or "The Hangman Heydrich" tell you all about his evil personality.
In 1941 Heydrich became the "Protector" of Bohemia and Moravia in former Czechoslovakia and immediately started to crush the Czech resistance. As his actions were very brutal, he was soon convinced he had succeeded and thus drove in an open top green Mercedes car without an armed escort as a show of confidence in his intimidation of the resistance and successful pacification of the population. This information was crucial to the assassins.
On May 27, 1942, two Czech parachutists trained in England for assassination of Heydrich, attacked as his car slowed to round a sharp turn. They attempted to shoot him but the gun failed to fire. The backup plan was successful. The bomb thrown in his direction exploded and wounded him seriously. Reinhard Heydrich died 10 days later due to his injuries.
After the assassination
The Nazi reply was a nightmare. Relatives of the partisans, their supporters, Czech elites suspected of disloyalty as well as random people were killed or sent to concentration camps where most of them were gassed. Victims can be counted in thousands.
The most barbarous crime was that one committed on Lidice and Lezaky. Those villages were literally wiped off the face of earth right after all males over the age of 16 were shot and all women and children sent to concentration camps. Surprisingly enough, Nazi propaganda was proudly announcing this infamous act, unlike other massacres in Europe they were also responsible for.
The parachutists were found later on hiding in a crypt of a Church of Saint Cyril and Methodius in Prague. After a courageous siege, the assassins used their last bullets to take their own lives.
The exhibition
The exhibition reminds us the brave Czechoslovak soldiers who stopped one evil man but fueled other evil actions. Was it a wise thing to do? There is not an easy answer to this. However, I believe that evil must be stopped. And they tried.
Libensky zamek is situated in street Zenklova 35. You can take trams 10, 24 or 25 to station
Stejskalova. Exhibition is in first floor. It is open every Monday and Wednesday from 8:00 to 18:00, Tuesday and Thursday from 8:00 to 15:30 and Friday from 8:00 to 15:00.