Jewish Ghetto in Prague
Jewish community has always created the important role in Prague's history. They came to Prague in 960 AD and Prague became the most important Jewish cultural and religious center in Central Europe. Jews worked as merchants and they focused in important trade routes. Their community survived thousand years of natural disasters, pogroms, religious and social persecutions and many ways of injustice.
Now if you wanted to visit former Jewish Ghetto, you would be surprised. Instead of narrow, winding streets with little houses there is newly renovated area in pseudo-historic style and the Art Noveau style built in the first decade of the 20th century. Only the Old Jewish Cemetery, the Jewish Town Hall, and six Synagogues have remained unchanged. In 1994, the Jewish museum in Prague was founded as a non-state organization. Nowadays the Jewish Museum has one of the most extensive collections of Judaic art in the world, containing about 40,000 artifacts and round 100,000 books.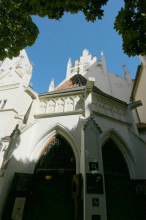 You can visit three tours. In the first tour is the Jewish quarter – interior tour, you can see sights including interiors: Synagogue, Old Jewish Cemetery, Jewish Museum and Ceremonial Hall. You will learn something new about Jewish history and heritage. This tour begins at 11 AM and at 2:30 PM. It lasts 2,5 hours, adults pay 550 CZK and students 450 CZK. Tours with interiors are not possible on Saturdays and during Jewish holidays.
Second tour is shorter. It is for visitors who have not enough time. You will see informative tour without interiors: Jewish Town, known first as the Old Ghetto, nowadays as Josefov. Old New Synagogue and Jewish Cemetery. You will learn something about one of the most famous Jewish and Renaissance legends – the story of Golem, a clay monster created by Rabbi Löw (Maharal). You will also visit the Prague Jewish writer Franz Kafka's house. This tour begins at 11 AM and at 2:30 PM. It lasts 1,5 hours, adults pay 300 CZK and students 250 CZK.
Third is Terezin memorial tour. It was 18th century military fortress which was turned by Nazis into the only concentration camp on Czech teritory during WWII. There more than 33,000 European Jews died. You will visit the Police Prison, the Museum of the Terezin Ghetto and Cemetery. Tour is organized every day except Mondays and Tuesdays, begins at 9:30 AM and lasts 5 hours. Adults pay 1,200 CZK, students pay 1,100 CZK. If you would like to visit Terezin, it is better to make reservation because of limited availability. Your tickets you can book on: +420 777 069 685.
Meeting point is on the left side of the Watch Tower – Astronomical Clock (the Horologe) on the Old Town Square. Your guide will be holding the White Umbrella and Jewish Ghetto sign. All tours are in English.
The recovered glance of Hotel Imperial Prague Food Festival 2007