The recovered glance of Hotel Imperial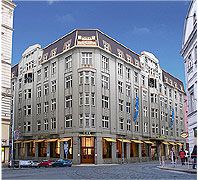 At the beginning of the twentieth century Prague got the reputation of a city where a cheap but high-level accommodation is available. There were located many luxurious hotels in big style there. To the most famous belonged Adria on Wenceslas Square, Alcron, Savoy, Palace and of course Imperial. Its rise dates to the times of the beginning of the World War I. The name Imperial prompts that it should not be anything provincial. The construction begun in 1914 and the fame followed very soon. Among the old times Prague VIPs has especially favoured this hotel – famous writer Franz Kafka and also genius music composer Leos Janacek.
The Hotel was during the so called First Republic storied mainly by the donuts war. Don´t worry that you are not reading correctly ! In the entering hall was lying a big dish of one day old donuts. These donuts could be used for throwing by every visitor, and the aim could be anything or anybody.
The Hotel was neglected during the communistic era but in 2005 the owners decided to renew the old glory. Roofs, interiors and fore side have been repaired, as well as the popular coffee house. But the original character of all interiors and exteriors have been preserved. At the entrance welcome you two lions, the ground floor is a unique mixture of wood, glass and marble. The coffee house is decorated by the ceramic mosaic in oriental style. You can´t find here the donuts on the floor any more, but you get it for free with buying a delicious coffee. The best way how to get to the Hotel is a short walk from the metro station Florenc on line B and C. It is situated in the well known street Na Porici.
Summer Holiday Ends - changes in Prague transport Jewish Ghetto in Prague