Be there at full hour! (Part One)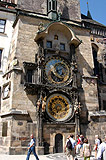 While in Prague, you should pay attention to the time. Good timing is really crucial here. Every full hour something interesting is going on. There are special attractions that charm not only tourists but locals too. Among the best known are Astronomical Clock and Loretta. But there is more than that.
Every full hour, the Astronomical clock, which dates from the beginning of the 15th century, offers a little show. Parts of the Astronomical clock are set in motion – Twelve Apostles salute the viewers in a procession at the doorway above the clock, while other four figures, which are a bit harder to detect, move too.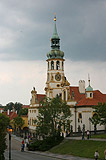 They are below the Apostles, two on each corner. They represent Death, Turk, Miser and Vanity. The Death is ringing the bell, the Turk is shaking his head, the Miser shaking his bag and Vanity looking at the mirror. At the end, a golden rooster situated almost at the top crows. The show ends with the sounds of chimes. It is really incredible if you consider how old the clock is!
Another great place where you should be at full hour is Loretta, located in Letenske namesti 7 not far from Prague Castle. Loretta is famous for its beautiful carillon melody that is played daily every full hour from 9 am to 6 pm. 27 bells are used. It is like from a fairytale! So when you are in the castle district, don't forget to stop by. It is best reached from tram station Pohorelec (22, 23). But the bells are not the most valuable things there. It is the liturgical treasury, so-called Prague Sun, which is embellished with 6,222 diamonds!!! If you want to see it you must pay a fee. Open is daily, except for Mondays.
Don't pay for entrance to Museums in Prague Be there at full hour! (Part Two)