Be there at full hour! (Part Two)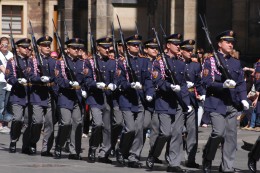 This attraction, about which I am going to write, doesn't actually take place every full hour, but only at noon!! Make sure you don't miss it while in Prague, because it is a real fun. And what is it? The Changing of the Guards, of course!
Around noon, it is probably the best time for lunch, you may say. And you are right. But once you are in Prague, I think it is much better to wait few more minutes, so you don't miss all the fun! It is worth it to be hungry for a while, trust me.
So what can be better than eating at noon? Definitely the Changing of the Guards at Prague Castle. Yes, the Guards do change every hour, but only at noon there is this big ceremony.
It is done in a very formal manner. There is a marching band as well! If you want to watch the midday show, make sure you start to take up a position at least ten minutes earlier if you want to have a good view, because it can get really crowded. The best position is by the main entrance to the Castle. But you will find the guards at every entrance to the Castle.
They are supposed to stand still. But as you can imagine, it can be a real burden when everybody watches you and take pictures of you all the time. Some tourists also try to make them laugh. It must be difficult to remain calm. Poor guys! But if you touch them, they can defend themselves, so be careful not to be too rude. Rain or shine they are standing there…
The guards are of course much more than just a tourist attraction. They hold a real machine-guns, and guard the president who has an office in the Castle. But don't worry, they will let all tourists pass by and even accept all that photo-shooting with them. (See also Part One)