Charles Square in Prague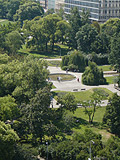 When Charles IV. started to build the New Town in Prague in 1348, he wanted to create a square that would be a dignified equivalent to the Old Town Square – the Charles Square (Karlovo namesti). This place was supposed to be the central place of the New Town. The Charles Square used to be the biggest square in Europe at that time, and it is still the largest square (4.63 ha) in Prague now.
The square got its present name at the 19th century, before that it was called the Cattle Market for large markets selling not only cattle, but also firewood, coal or pickled herrings. In the middle of the square used to stand a wooden tower in which coronation jewels were displayed once a year. In 1393 the tower was replaced by a chapel with a small cemetery. However, the chapel was destroyed in 1784… (read more).
Prague Museum Night United Islands of Prague starting today!