Prague Museum Night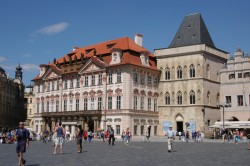 Ok, you can't miss this! Make sure you are free on June 16. Oh, and make sure you are not tired on this day! I mean at night. You will not regret it. It is a great fun! I am talking here about the traditional Prague Museum Night. What is it? Well, I would call it a museum marathon where you can visit up to 21 institutions in 45 buildings all during one night and all for free or for symbolic fee up to 10 CZK!!!
It is not only fun because it is for free. The fun is that you can visit all those museums in attractive night time!! Museums usually don't stay open much longer than till 7 pm. Well, this time, all museums will be open from 7 pm to 1 am!!!
And that is not all. You can choose not only from museums but also from galleries, cultural monuments and other sites!!! For those, who are still not convinced I have another information – permanent and short-term exhibitions will be accompanied with additional programs, such as concerts, film presentations, workshops, guided tours, displays of unique exhibits and curiosities, theater performances, etc.
There is really a lot to do and lot to see. Of course it is impossible to visit everything during one night. To make it a bit more possible, there will be special shuttle busses linking attractions near each other. The central transfer point will be at Namesti Jana Palacha, near Staromestska subway station (green line A), trams 17 and 18. And those busses are also free of charge! Cool, right?
So, the most difficult question is: What do you want to see? Good planning is the most important thing here. My friend visited 5 museums last year during one night!! But I don't think it is about the quantity but quality. At night such as this you realize how many museums and galleries are in Prague in a close proximity.
Last year Prague Museum Night attracted 160 000 visitors!! It should be one those unforgettable evenings under the stars…
New Town Hall in the Charles Square Charles Square in Prague