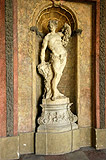 As the geographical centre of Europe, Prague doesn't remain behind even at the category of galleries and art exhibitions. The city of a hundred spires (even if in reality the number is much higher) is a very rich cultural centre and it offers tons of options for any range of art lovers.
There is no specific rule as for where you will find one gallery or the other, nevertheless, most of them are situated in the city centre, so it won't be difficult to get from one to another. The most interesting short-term galleries are advertised all over Prague, especially in trams, underground stations and public places.
Many galleries and exhibitions may be closed on Mondays and state holidays, but again, it depends on the galleries policy. Children, students, disabled benefit of discounts, so be sure to bring along any discount card you might possess.