5O Czech crown banknote and coin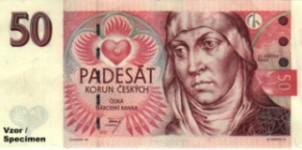 Starting with the banknote 50 CZK. Although a 50 coin is now taking over, the banknote is still widely available. There is portrayed St. Anezka Ceska, in English Agnes of Bohemia, who lived from 1211 to 1282. She is the patron saint of Bohemia and founder of convent and Franciscan hospital in Prague.
She was a princess, daughter of the Czech ruling family and therefore lived in prosperity and was to be married to some nobleman. It was of course arranged marriage for political reasons. Like other noble women of her time, Agnes was a valuable pawn in the marriage game.
Agnes, however, wanted to devote herself to God only. She was engaged four times (to name just one husband wannabe – Henry III of England), but she always managed to break off the engagement – last time with the help of Pope Gregory IX himself. Then she could finally devote her life to religious works, to those that were in need, ill or suffering. She spent 50 years in the cloister helping others. Her charity is glorified.
She was canonised in 1989 by John Paul II, just few days before the Velvet revolution.
The banknote is red as the big heart of St. Agnes, as well as ours.
See also article about Czech currency – koruna.
Czech currency - crown (koruna) - Money, Money, Money! 100 Czech crown banknote