2000 Czech crown banknote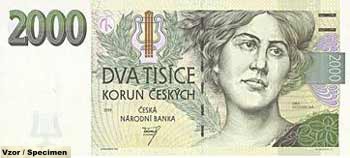 Czechs have always loved music. How else could you explain so many famous composers like Smetana, Dvorak, Janacek from a country this big? And when we talk about Czech music we can't leave out Emma Destinova, or Emmy Destinn (1878-1930), who was one of the greatest opera singers of all time – and yes, that is the lady on the 2 000 CZK banknote.
Her real name was Emilia Pavlina Venceslava Kittova, but she adopted her music teacher's last name for the stage. And soon she became an international opera diva performing in Berlin's Court Opera, London's Convent Garden as well as New York's Metropolitan.
She was known for her ability to learn very quickly. She was fluent in German, Italian, French and English, all in addition to her native Czech. This skill helped her learn roles in several languages without problems. Not to mention that before beginning her vocal studies, she learned how to play both piano and violin so well that she could read any music at sight.
Her roles were various. To name only some – Verdi's Aida, Mozart's Pamina and Donna Anna, Wagner's Eva, Elsa and Senta, Strauss´s Salome, Puccini's Madame Butterfly. She sang the first Carmen to be recorded, although in German and not French.
Her life was really extraordinary. A movie about her was made in 1979. It is a Czech movie called "Divine Emma". She gave her final concert in London in 1928, at the age of fifty. She died at the relatively young age of 52.
On the other side of the banknote there is a Muse with violins.
See also Czech crown