Your Third Ear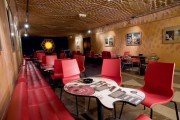 Rock Café is one of the most important and most visited Prague Clubs. It benefits from its center position and it is a multimedia space, offering concerts, gallery, CD shop and cinema.
A cult club for sure, being from its beginning conned to the Novy Horizont (New Horizont) motion. Novy Horizont made its goals to associate different groups of artists, give them law, agency and manager's support, and to give a hand to all the new music groups and interprets.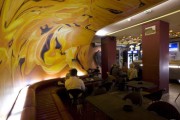 For those who have been to Rock Café for the last time two years ago, it has changed a lot. The main concert hall has been moved downstairs and increased twice in size. But the range of upgrades is very wide – starting with professionally designed interior and ending with new sound and lighting systems. The sound is exceptionally clean, one would say elite.
The club is divided into four parts. The first part is a classic rock pub, opened whole day and evening, with comfy sofas and club chairs. The second part is a shop called Gung-Ho. It's packed with metal/extreme underground music records and you can also book tickets for some metal concerts there.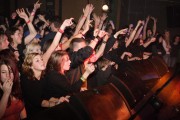 The third, and the most important part of RC is located underground. There is a bar and Internet café, and – the stage. The stage part is an air conditioned large black hall for a few hundreds of people. In the club's history there were many good concerts of world famous bands.
Few times per year there happens to be held the music contest – a contest of young unknown bands that hope to be noticed by the organizing sponsor.
The capacity has increased, number of bars have increased… what to say more, Rock Café has definitely grown up and entered the adult stage, with all the benefits for us to enjoy.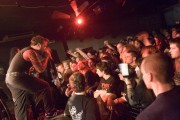 It should be also said the entry is free on Tuesdays. Also, the entry fee is paid only if you want to go downstairs to a concert. Plus – when you want to leave, there is another rock pub/club right across the street – Vagon.
How to get there: Leave subway at Narodni Trida B subway station and follow tram rails in Narodni Divadlo direction – after your first turn to left you'll get there after 50m.

Address: Rock Café, Narodni 20, 110 00 Prague 1
Phone: +420 224 933 947
Opening time:
Mon-Fri – 10:00-3:00 (10am-03am)
Saturday – 17:00-3:00 (5pm-03am)
Sunday – 17:00-1:00 (5pm – 01am)
Foto: RAF studio, from Rock Café homepage www.rockcafe.cz