Multifunctional and Multicultural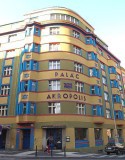 Palac Akropolis is a multifunctional building located at the crossing line between Zizkov and Vinohrady district. In its depths, it harbours a theater, an infocentre, a radio headquarters, a restaurant and – of course – a club.
The building itself has quite a history – it was built in the early times of independent Czech Republic in the first quarter of the 20th century, and it served primarily as a biograph. After a decade it was turned into a theatre. Owners changed as leaves on trees, but it always served cultural purposes, which, luckily, has survived to our times.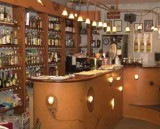 Palac Akropolis is a space of young artists from all around the world, it is multifunctional and multicultural. There are people from all corners of the world all the time, no matter if from the North, South, East or West.
Orientation: near the first stairs in foyer you can always find some weird gallery of mad artists so do not miss it. In the upside is day café/bar and cloak room, in the underground level, which is divided by that gallery, are three stages. First is a Divadelni bar (Theater Bar), the second is called 'Mala scena' (Small Stage) and third stage is the largest – behind that door near main stairs – so called Hlavní scena (Main Stage).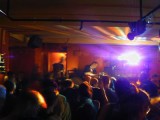 The Main Stage serves for real stars only and as a theater. Great bands made their show there; Apocalyptica, Apollo 440, Natacha Atlas, Boban Markovic Orkestar, Dead Kennedys, Megadeth, Sigur Ros and The Strokes to name just a few.
Small Stage often resonates by the sound of reggae, dub, dance hall and jungle music, sometimes DJs play experimental music full of breaks or without like so called stars of Prague's DJ underground Raveboy, Yukimura or Deus Ex Machina.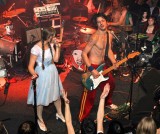 Prices of drinks aren't too crazy, maybe that is the reason the place is often filled with too many people, so be ready to fight for your beer some Friday night. And don't play any personal games with the security guards at the entrance, they are too busy playing sheriffs.
In the infocentre upside the stages are computers with the Internet and wifi connection for free.
Address: Kubelikova 1548/27 130 00 Prague 3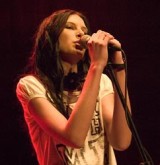 Phone : +420 296 330 911
Web : http://www.palacakropolis.cz
Email : info@palacakropolis.cz
How to get there: Take Metro C to station Hlavni Nadrazi, go through the park, and than take a tram 5, 9 or 26 to Lipanska station. Than go straight, first left by the church, the next turn right, go straight the next turn, than left, and you are there.
Opening time:


Mon – Fri – 10.00 – 24.00
Sat – Sun – 16.00 – 24.00
Holiday opening hours
3.7.- 31.8 (daily) – 17.00 – 02.00
Photos from: akropolis.cz