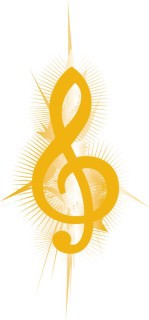 Prague, mother of many well known musicians, pulsates wildly with all night and day musical life for many centuries. So if you want to drink from its musical vein, get dressed and insert coin into one or more Prague's music club. It doesn't depend of what music do you like – everyone would be satisfied, even if you are weird dressed decadent avant-garde experimentalist, haired rocker, dancefloor queen, lover of old classical ages, all time smoking jazzman or just a man who wants only to sit in some café bar, doesn't matter how it is named, drink the best wine and listen to tango. And of course there are some open-air festivals too.
As i said, there are various clubs. Generally they are opened from afternoon till the morning, but it'll be foolish to expect classical concert-hall opened long after the finishing of concert. In this case you'll have to switch the pub, as always. Dance clubs close their gates in the morning and common rock club at the same time, if you find it in the city centre , but much far from the downtown you are, much earlier club closes.
When there is no live production at the day you're visiting the club, then there is no entrance fee. In the other case prize of entrance fee depends on the size of name of a band or dj or concert. Sometimes the fee is similar for all artist – all nights – the case of a lot of dance clubs. Prizes of drinks and food depends on how 'mainstreamish' the club is – you could find really cheap prizes in some underground club in industrial quarters of Prague, even cheaper than in common non-music pub in downtown.
People who visits the clubs are various – but i think that you could realize common visitor of particular club on your own, because it is same as anywhere in the world.
Every club has its own spirit; its own manner and unique decorations, so don't be coward to visit places, where other music than you usually listen to is sounding – easily it could happen that you would miss some true jewels.