The underground club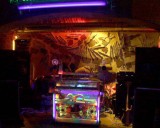 The Bar, club and theater. Do you feel like partying to the morning? This place will make you. Cross Club Prague. If you haven't been there yet, the club is anything but ordinary. A favorite meeting point of foreigners and Czechs alike, usually of those, who like non-conformity. There is a decidedly anarchistic feel throughout its many subterranean levels.
It might be hard to find, but once you see the house-high rotating sculptures out front, you know you are there. Kinetic sculptures definitely dominate the place – the owner spends hours with an oxy-house-gas every day to ensure the place will look different every time you enter it.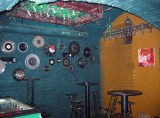 Rotating and twinkling statues; lights with shining, octopus-like tentacles; Bar chairs with tank shafts; numerous corridors with orientation maps; tables with four-stroke engines; the interiors look just like the inside of a huge sci-fi robotic whale. To grasp the genus loci of that place is quite impossible – maybe by this: It cannot be compared to anything from our world. And also: Travelers meeting point.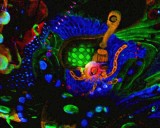 Concerning drinks, they are affordable, and various, imaginative. Concerts – frequent punk-rock, ska, rockabilly shows. DJ sets – Techno, Jungle, Hardcore, and so. You can spend many petky (10 CZK coin) on its numerous foosballs, one of them is on the ceiling. There are two stages – 'The upper stage' and 'The lower stage'. I am not quite sure about the number of tables and bars there, let's just say there are many.
Cross Club, Plynarni 23, Prague 7
How to get there – Metro C Holesovice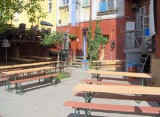 Mobil: +420 736 535 053
Email: lorenzo@crossclub.cz

Opens:
Mo – Fr: 14:00 – :)
Sa – Su: 16:00 – :)