Prague Spring (Czech: Mezinárodní hudební festival Pražké jaro) 2008 is a significant music event held under the patronage of the President of the Czech Republic and in association with the Ministry of Culture of the Czech Republic. Outstanding artists, symphony orchestras and chamber music ensembles has been performing at Prague Spring since 1946.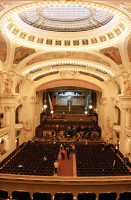 Prague Spring is a permanent showcase for outstanding performing artists, symphony orchestras and chamber music ensembles of the world. The concerts take place in various places in Prague, such as Rudolfinum, Municipal House, Lichtenstein Palace, Church Of St. Simon and St. Juda, etc.
The Municipal Hall (Smetana Hall) in Prague, Czech Republic, serves as one of the main venues in the annual Prague Spring Festival.
The first festival was held under the patronage of Czechoslovak president Edvard Benes, and its organizing committee was made up of important figures in Czech musical life. In that year, 1946, the Czech Philharmonic Orchestra was celebrating its fiftieth anniversary, and was therefore given the highest acolade: to appear on all the orchestral concerts. Such musicians as Karel Ancerl, Leonard Bernstein, Sir Adrian Boult, Rudolf Firkušný, Jaroslav Krombholc, Rafael Kubelík, Moura Lympany, Yevgeny Mravinski, Charles Munch, Ginette Neveu, Jarmila Novotná, Lev Oborin, David Oistrakh and Jan Panenka have won enthusiastic ovations on the Prague Spring Festival stage.
Since 1952, the festival has opened on 12 May— the anniversary of the death of Bedrich Smetana — with his cycle of symphonic poems Ma vlast (My Country), and it closes with Ludwig van Beethoven's Symphony No. 9.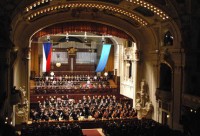 The festival commemorates important musical anniversaries by including works by the composers concerned on its programmes, and presents Czech as well as world premieres of compositions by contemporary authors. Artists and orchestras of the highest quality are invited to perform here. Some of those who have appeared at the festival include Sviatoslav Richter, Lorin Maazel, Herbert von Karajan, Mstislav Rostropovich, Boris Pergamenschikow, Lucia Popp, Kim Borg, Sir Colin Davis, Maurice André, Dmitri Sitkovecki, Leonid Kogan, Paul Klecki, Gustav Leonhardt, Anne-Sophie Mutter, Alfred Brendel, Heinrich Schiff, Leopold Stokowski, Arthur Honegger, Arthur Rubinstein and Gennady Rozhdestvensky.
Prague Spring's traditional venue is the Rudolfinum concert hall, a venerable Neo-renaissance building with an excellent auditorium, situated on the bank of Vltava River.
The Prague Spring has a particular focus in supporting younger performers. The Prague Spring Competition was established just one year after the festival itself, and is held each year in various instrumental sections.
For all those who want to attend Prague Spring – tickets are on sale online. They are available via Ticketpro or in Prague's Rudolfinum (Jana Palacha square).
All the information you need about Prague Spring on their web