The day Prague drinks a Brazilian cocktail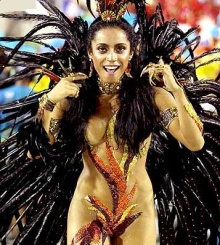 The colourful parade of allegorical cars, sexy dancers, stilters, jugglers and drummers takes place in Prague again. Inspired by the world famous carnivals, especially the one in Rio, Prague Carnival is a march of a merry crowd in colourful masks.
Allegorical vehicles made by artists are created in order to support salsa and samba dancers from groups of the whole republic, surely with support of dancers from Cuba, Brazil, Panama, Ecuador, Germany, England… music for them is played by Latino-American DJs, also by live groups.
The Programme of the main day, Saturday 6th September 2008, just for illustration: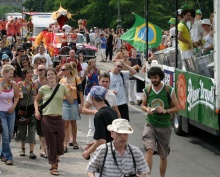 12: 00 – carnival mask meeting
14: 00 – start of the march
17: 00 – the destination reached – Smichov beach
17: 00 – Dj Marcos
20: 00 – the most original mask contest annunciation
20: 20 – Sunflower Caravan concert
21: 30 – 'IF' dance performance
Trace of the parade – start at Namesti 14. Rijna square, Prague 5 at 14:00, than Presslova, Elisky Peskove, Stefanikova, Andel, Lidicka, Zborovska, Presslova, Namesti 14. Rijna square.
Anyone can participate in the 'festival noise' by playing portable drums, percussions, or whatever comes into one's mind, to come to dance or sing.
There is something special in walking with the crowd in the streets, even when it won't be as giant as the Brazilian Rio de Janiero classic, but of course, if there will be good weather, the crowd is going to form a happy event, which would be a pity to miss.
If you prefer partying on a spot, the Smichov beach is the place where the party ends, so at least to come there shouldn't be a pain.