Under the auspices of the Mayor of the City of Prague Pavel Bém and the Mayor of Prague 1 Petr Hejma those very special events of culture are organized.
Why a carnival? Celebrating the joy of life, fantasy, talent, craft, and creativity. Director of the festival Zlatuse J. Müller informs :
"Festivals of this type belong to the all-European culture heritage. They were usual in the Czech lands, as in the other parts of Europe, for more than seven centuries and they have its historic tradition, that we would like to bring to life again at the Bohemian Carnevale festival."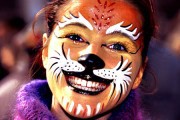 To held marches of masks clearly has long tradition in the Bohemian lands, even when it started to disappear in 17th century and until recently it was for some reason kept outside of big cities. Metropolises like Prague has to find the way to its roots, and Bohemian Carnevale is one of these moments Prague wakes and brightens up.
The organizers promise great marches of masks, allegoric carriages and many restaurants and bars offering carnival menus. All outdoor activities will be for free, some events will be held indoors and paid.
The official leaflet says: "During the festival, you can visit a carnival saloon in Clam-Gallas Palace in Husova street and make yourself look, at least once, the way you always wanted. Just use your fantasy. Many fashion designers, hair studios, florists and others will be there to assist you. You can also find there an exhibition of masks and costumes." So there is no need to bring a complex costume with you – you can get masked at the place.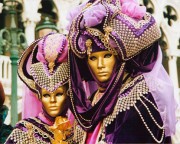 In Clam-Gallas Palace, every evening stylish parties "Galacticos" will be held, featuring important and young Czech fashion designers, top hairdressing parlours, Make-up Artists, DJ´s and classical music orchestras. Experience gastronomy will be an integral part of all these gala nights.
The event is focused on kids, too, as they can have fun while joining many attractions in the palace or creating their own masks.
The organizers have divided the event into four parts, having exotically sounding names; Divertimento Furioso, Cuisine d'Alchimiste, Praga Mysteriosa, Bohemia Divina. Those are describing:
> Divertimento Furioso – means 'Furious Fun' – that is the part when the masks march the city in joy.
> Bohemia Divina – The programme is accompanied by exhibitions, concerts, readings and discussions about carnivals.
> Praga Mysteriosa – To the participants a wide spectra of traders and fashioners, who can form a magical carneval labyrinth of the City.
> Cuisine d'Alchimiste – Carnival celebrations are traditionally about food, so there are posibilities to buy special festival foods at various restaurants.
Bohemian Carnevale is a festival of fantasy, gastronomy and fun. A Czech tradition which dates back over 700 years has been revived. The capital's streets will be transformed into a multicoloured whirl of masks and allegorical floats.
The main theme of this, the second Bohemian Carnevale, is Metamorphosis.
With the carnival pass, participants can visit elite Prague restaurants, where cook masters, sommeliers and barmen prepare unique menus, sweets and other culinary surprises for them during the carnival week.
The event in Prague, January 31 – February 5 2008, at Clam-Gallas Palace, Husova 20, Prague 1, and in the centre of Prague. Tickets to Clam-Gallas Pallace at ticketpro.com, or since the day before start at the desk.
If you are interested in programme, go to www.carnevale.cz, where you will get accurate info.
The main marches are on Friday and on Saturday
Friday – 10 – 17 – March of archaic Masks from Sardinia, goes from Lvi dvur on Prague Castle, through Lesser Quarter to Clam-Gallas Pallace.
Saturday – 10 – 17 – March of masks and allegorical carriages from Clam-Gallas Pallace to the Old Town Square.