The Biggest Present Czech Music Festlival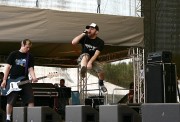 During the past 12 years Rock for People has become one of the biggest and most popular outdoor music festivals in the Czech Republic. Artists from all around the world meet on three or four stages in three days of great fun and festival atmosphere.
As the original festival site was out of its capacity, in 2008 the organizers decided to move the festival into a large venue.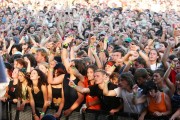 The former military airfield by Hradec Kralove offers great comfort and festival atmosphere for the fans, same as for the preforming artists.
A substantial amount of tickets is often sold even before the festival program is published! Rock for People has been recognized annually in various magazines and readers´ polls as the best event of the year, receiving in 1998 certification from the Czech Republic Ministry of Culture and in 2000 the Czech Grammy Award for Best Event of the Year.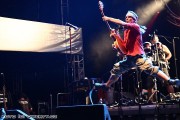 The guests can enjoy movies, an Internet café, adrenaline sports, and many more attractions. All this in three days, on two large stages and three smaller "club" stages. Festival capacity is more than 30.000 people and national TV and radio are always present to cover this exciting event.
It is possible to park your car or caravan or bring your tent and camp in the large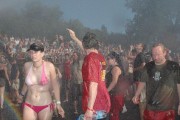 festival campground for free, and enjoy the continuing festivities even after the bands have stopped for the day. Of course, other accommodations are available in boarding houses and hotels in the city of Hradec Kralove.
Past Rock for People festivals have featured such international acts as Manu Chao (FR), Cypress Hill (US), Garbage (US), New York Ska Jazz Ensemble (USA), Die Toten Hosen (D), The Levellers (GB), Junkie XL (NL), Therapy? (IRL), Mike Patton (US), Chumbawamba (GB), Ska-P (E), Apocalyptica (FI), New Model Army (GB), Asian Dub Foundation (GB),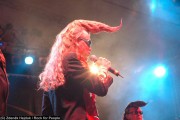 Bloodhound Gang (US), Biohazard (US), Agnostic Front (US), Madball (USA), Gocoo (JAP), Dead Kennedys (US), Guano Apes (D), Die Happy (D), Transglobal Underground (GB), and others.
Why is it called "Rock for People"?
Having been run on non-profit basis for ten years, the festival has donated more than 500.000 CZK to various non-profit organizations. This year Rock for People will continue this tradition with donations, charity tie-ins, public awareness and information stands and tents. It is truly Rock for People!
When is Rock for People? The date for the 2008 Rock for People was set to July 2nd – 5th. We are now working hard to make it the best Rock for People ever.
Where does it take place? At the Festival Park near the city of Hradec Kralove.
Where exactly is that? The city of Hradec Kralove is about 100 km east of the capital Prague.
Author of pictures Zdenek Hejduk & Qwerty. The Festival site here