Street theatre returns slowly back to Prague
The three day festival with masks, jugglers, dancers, musicians, allegorical stuff and much more of theatre and circus nuevo. The shows start every day from 10:00 – Every morning there is a block of performances especially for children, and simultaneous puppet making workshops. Performances continue to 21:00.
Who comes to perform? Fifteen companies from the Czech Republic, Germany, USA, South Africa, Island, Austria and Australia come to perform for your entertainment, for free. This is the only street performance festival in the Czech Republic, so if you like this kind of things, don't miss it.
From 16 to 18 July in Na Kampe street by the Famous Charles Bridge it is possible to see something you would expect in Paris, Barcelona or Edinburgh – a street art festival. Kampa area is turned into big theatre stage. Prague citizens and visitors have the unique chance to get entertained by the very old traditional way, which we tend to forgot about in our uber-urbanized society.
Teatrotoc was created in 2002 as the final stage of a marionette carving workshop led in the studio of Mirek Trejtnar. That year, students in the workshop toured a short puppet show to Czech castles. Based on the success of that production, the following year they decided to perform again – this time on the streets of Prague.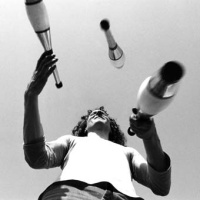 Audience members thanked them profusely for bringing theatre to Prague in July- a time during when most theatres have shut down – and thus an annual tradition was born.
In 2005 the society brought the Teatrotoc performance to the huge Linz Street Theatre Festival, where the entire city becomes a theatre stage for a weekend. They got inspired to try to create something similar in Prague. In year 2007 Teatrotoc includes performances not only by the Teatrotoc collective – that year, we had a total of 61 performances by 14 companies from around the world.
For Example from Germany arrive jugglers in musketeers costumes, dancing robots Metroccolis and a cabinet of twisted mirrors Fatalia. Claun Conc from South Africa is said to have the power of making all the audiences laugh.
Event: Teatrotoc festival
Date: 16 – 18 July
Place: Na kampe street and Wenceslas square
Selected pieces form 2008 programme:
Brave Robot (USA, Iceland)
Be Brave, Robutku!
Watch our hero, Robutek, outwit space scoundrels while flying through the Milky Way eventually finding his way to Earth. There he must find Robot Castle where inside he will face a Robot Dragon who threatens to destroy the world!
performed by: Marie Keller (USA), Sunna Reynisdóttir (Iceland), Brierley Holbrook (USA).
Puppets Without Borders – LBH (Cz)
Children's workshops
These workshops are open to all children at heart. Everyone gets the chance to create their own puppet, mask or even entire theatre (out of a matchbox!), paint their own postcards, or contribute to decorating Kampa with colored chalk, etc. Our motto is CREATIVITY WITHOUT BORDERS
Metroccolis (Berlin, DE)
Man Machines
Visitors are arriving. Man machines. Elegant white robots in black suits enter the stage to reveal a non-verbal show full of electrifying dances and bizarre little stories. Once they wear their human masks emotion becomes their engine to drive this performance into moments of poetry – sometimes happy, sometimes sad. Suddenly they disappear as quickly as they have shown up and leave you with pictures in front of your eyes, with music in your ears and with a bunch of feelings in your heart. – audience: EVERYBODY….every age, every status and nationality!
performed by: Rocco Menzel and Stefan Wabner
Marc Colli (S. Africa)
Monsieur Conc
Classic clown performance by Marc Colli from S. Africa, who has performed his solo show in circuses around the world.