Jun 26, 09:15 Filed under recommendation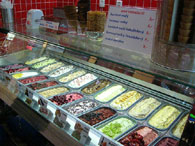 Every summer, especially if it is hot like this year, I feel like I don't need to eat anything else but ice-cream. I know it is a dull idea and all doctors probably cry out with despair but I just don't feel hungry and all I need is something that cools me down. And that task can best fulfill ice-cream, the sweet and delicious cream.
Although the best ice-cream is said to be in Italy only, there are places in Prague where even Italians would please their taste buds. The place is not far from Wenceslas Square. It is called Hajek and it is in Vodickova street, with other stores around Prague.
It is truly the best place to go to when you are longing for an ice-cream. They serve everything from ice-cream to cones, Sundaes of your wishes, to little or big tarts, and even sandwiches. The selection is really great. I always have problems to choose what I actually want.
They are open daily till 8 pm. You will find it in the arcade from Vodickova street right at the tram station Vaclavske namesti (trams 3, 9, 14, 24). My recommendation to you is to buy some of those ice-creams and continue walking through the arcade till you enter the Frantiskanska garden. Take a seat at one of those numerous benches and enjoy your ice-cream together with the beautiful roses which are now in bloom.