Czech Freedom Fighter and Ex-President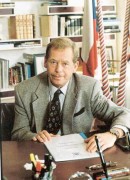 Vaclav Havel (b. 1936 in Prague) is a person, heavily associated with liberation of the former Czechoslovakia from the Communist regime.
Communism has influenced his life from the very beginning, as he was born into a wealthy and prominent family, and in communist countries private ownership is limited. They were declared bourgeois reactionary and class enemies by the communist government. After, their family property was confiscated.
He served the national military service in Czechoslovak army for two years, where he established a regimental theatre company. Military service, however, didn't help him from persecution. He wasn't allowed to drama school, he worked as a stagehand for ABC Theatre and Divadlo na Zabradli theatre, where his early plays are produced.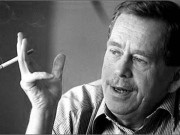 In 1968, when there was an air of reform; models for 'new models of socialism' are produced by president Dubcek, when it seemed right would come back; freedom of speech, religion etc. Havel became a prominent participant in the so-called 'Prague Spring' was a theatre group supporting freedom.
Soviets feared they would lose their conquest, and reacted by occupation by Warsaw Pact armed forces. Leading reformers are forced to travel to the Soviet Union to sigh a treaty allowing stationing of Soviet Troops in Czechoslovakia.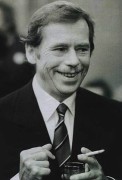 When in 1972 a protest movement dedicated to goals of reforms for 1968 are arrested, Havel writes an open letter to Husák, former president, displaying the problems of society of that time to the world.
A passage from the letter:
"So far, you and your government have chosen the easy way out of yourselves, and the most dangerous one for society: the path of inner decay for the sake of outward appearances; of deading life for the sake of increasing uniformity; of deepening the spiritual and moral crisis of our society, and ceaselessly degrading human dignity, for the puny sake of protecting your own power"
A new turning point came, when members of the music group Plastic People of the Universe were arrested for 'organized disturbance'. The group belonged to the music underground – members were a kind of Czech hippies, which altogether was too much for the totalitarian government.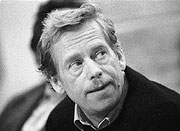 Havel later expressed the attack on Czech underground was an attack on the most elementary thing that bound together everybody who lived within the truth.
A year later became a co-founder and spokesman of Charter 77, a human rights movement launched as a response to the arresting of the Plastic People. Charter 77 is translated and reprinted around the world.
A year later, Havel doesn't stop in his activities against the regime. He publishes the essay 'The Power of the Powerless' where he depicts the methods and oppressions of the totality. The communist government becomes intolerant towards him and he is repeatedly arrested (1977-1989) and he spends almost five years in prison. Havel doesn't give up.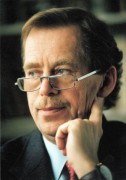 The movement for freedom and social change begins as an avalanche in 1989, when a peaceful students demonstration for human rights on 17th November is violently attacked by the police. The act stands as a cornerstone of massive anti-government demonstrations, growing in numbers. Vaclav Havel becomes the leading figure of the OF Obcanske Forum – Civic' forum.
1989, 20th November – Havel speaks to crowd of half a million people gathered in Vaclavske Square. He encourages the crowd to keep demonstrating, that 'The truth and love will always beat the lie and hatred'
Vaclav Havel was the ninth and last President of Czechoslovakia (1989-1992) and the first President of the Czech Republic (1993-2003)
Havel enjoys public support. He helps social reforms and reconciliation, abolishing the death penalty, and helps political prisoners. He invites Dali Lama to Czechoslovakia for an official state visit. He was the first head of a state to openly support him like this. He was awarded the Olof Palme Prize for his "consistent and courageous contribution to truth and democracy.
In 2002, just months before Havel was going to end his presidency, there was a NATO summit in Prague. Attended by almost all Europe leaders, the summit also worked as an international farewell for Havel. Chirak said at that occasion history will remember the Czech President for the light he kept during the darkest hours experienced by Czechoslovakia;
"The light of the writer and the dramatist who, by the power of the pen, armed solely with courage and his faith in mankind and truth, has nurtured the hopes of the oppressed who were denied democracy."