Prague Zoo Miracle Maker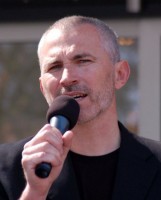 Phd. Petr Fejk (b. 1964) is the director of Prague Zoo. He has been working in this position since 1997, when he was appointed the director after regular, yet interesting selection procedure – he is the first 'non-zoologist' in the lead of the Zoo. Into the sub-consciousness of people he got by modernization of the Zoo and by his incredible effort after the devastating floods of 2002.
In 1982 he finished his Grammar school, since 1988 studied Philosophical faculty of the Charles University in Prague – Czech language, literature, history and pedagogy. In 1990-1992 he worked as a teacher at a Grammar school, in 1992-1996 he became an owner of a music club Belmondo in Pilsen.
In 1997 he introduced Prague City Hall his manager's project. He was in the selection procedure the only manager among twenty zoologists, and he didn't solve breeders questions, maybe just because of which he won. As he is originally a teacher, his start at work went along with much discontent of wide public and employees of Prague Zoo. People didn't believe Fejk's megalomaniac plans,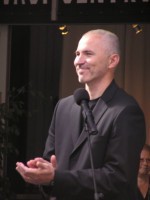 the employees didn't agree with his opinions about the place.
However the time proved his plans were not only realizable, but also realized and positive to the whole and surrounding territory. The Monkey and Giraffe pavilion appeared, construction of African jungle started. Gorillas babies appeared in the new Gorilla pavilion, first baby gorillas born in the Czech Republic. All in all, the Zoo become younger. The visit rate went from 400 000 in 1997 to 1 300 000 in 2007. This made people understand, the Zoo needs, more than a zoologist, a crafty manager, and Fejk indeed is.
Petr Fejk is known for his Zoo miracle, but also as a witty journalist, who comments affairs, writes interesting feuilletons, and informs public via his writing about doings in Zoo Prague.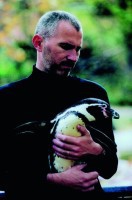 He is also known for the TV appearance with gum-boots and a spade, during the biggest tragedy that has ever happened to Prague Zoo – Prague was stricken by floods in 2002, and many of his precious animals has died. The most known are cases of Gaston, a seal who heroically flighted the stream which carried him 300km to Germany, but even when caught at Lutterstad, he died totally exhausted (now he has a sweet monument in Prague Zoo). The other is the gorilla male Pong, who came to Prague Zoo in his five years of age, being unable to communicate with other Gorillas, and has been Fejk's personal set for seven years. After the tragedy, Fejk organized building of the New Gorilla Pavilion, this time with an evacuation tower, where the gorillas train twice every year to evacuate at the sound of siren. It was well worth of the effort, as it abled the first and second birth of baby gorillas in the Czech Republic.
Petr Fejk is married, has two young kids, Oliver and Adela. His wife Martina Nevarilova is a fashion designer. He usually comes back from work at eight o'clock. At home, he has a dog and two sand rats. He likes spring and doesn't like when he has to cook.