The Czech Goalkeeper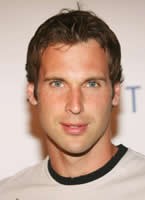 Petr Cech (b. 1982) is an international goalkeeper, born in Czechoslovakia. He is currently contracted to the English Premier League team Chelsea F.C, For which he played since 2004. He is also a member of the all-star Czech team of Euro, as he helped the Czech Rep. to reach the finals in 2004, and is going to participate on Euro 2008. Petr Cech played for those teams: Viktorka Plzen, Chmel Blsany, Sparta Prague and Rennes.
The greatest individual trophy he received is the individual award of Best Goalkeeper in the 2004-2005 and 2006-2007 seasons of the UEFA Champions League. In addition, he was named in the FIFPro and UEFA Champions League teams of the season in 2006.
When seen at the field, he is easily distinguishable because of his protective headgear similar to that worn by rugby players. That happened in 2007, when after just 2 minutes of a game he was challenged for a ball with Royals' forward Stephen Hunt, Cech's head collided with the Reading player's knee and left him concussed. There were initial fears that Cech would be out of action for up to a year but after taking the required three months out, he returned to action at the start of 2007. The goalkeeper now has to wear protective head-gear as a precaution –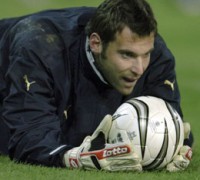 and he freely admits he may continue to wear it for the remainder of his career.
He currently holds three records: a Czech professional league record of not conceding a goal in 855 competitive minutes, an English Premiership record of not conceding a goal in 1,025 minutes, and the most clean sheets accomplished in a single Premier League season (25), set during Chelsea's 2004-05 title-winning campaign. He also has a club record at his former team Sparta Praha, having gone 928 minutes unbeaten in all competitions in 2001-2002, when his unbeaten run in Czech league competition was combined with his performances in the UEFA Champions League.