Jan Saudek is the world-famous Czech photographer. He was born in Prague in 1935 into a Jewish family, most of his relatives died in concentration camps, he and his twin brother Karel were kept in the special children camp for twins. Both of them survived the war. Karel later became a famous comix drawer.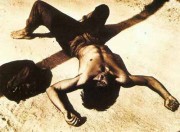 Jan studied a graphic school, and was slowly becoming a photographer. He went to the army for the obligatory service, then he got married, had two kids and in late 1960´s, when there was quite liberate atmosphere in Czechoslovakia, visited the U.S.A. and had there an exhibition of his works.
But when he returned to Prague, he was forced to work in half illegality, because the official authorities did not favor the free spirit his works. He got divorced, in 1972 discovered his famous "wall", which he then used as a background for the most of his famous pictures.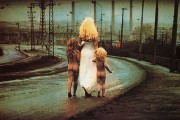 In the late 1970s he became widely recognized in the western world and in 1984 the official authorities finally allowed him to became the "Professional Artists", which meant he did not have to work in the factory any more and could have make his living officially by photographing.
But it did not prevent him from being followed by the secret police anyway, in 1987 his negatives were confiscated, but later returned. The role of an artist was not easy in the illiberal regime. Today he is probably the most well known photographer in the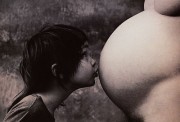 Czech Republic, not only for his pictures, but also for his extrovert lifestyle as well as for having many sexual partners and not hiding it.
Articles about him are often to be seen on pages of tabloid magazines. His best known works are hand-tinted depictions of painterly dream worlds, mostly inhabited by nude or semi-nude (mostly female) figures and as the background is very often used the famous old and magical wall.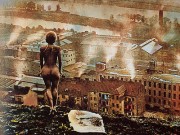 From the revolution until now, he has lived and worked in Prague. If you want to get to know him better, you have a few options. You can visit his official website, the address is: http://www.saudek.com and works both in Czech and English version. On the website you can find a presentation of Sara Saudkova too. Sara is Jan Saudkek´s ex-partner, who became also a famous photographer under his influence and she is also quite well known not only for her work but for her private life as well.
There were books published about him and his work, again both in Czech and English language.
You can visit the permanent exhibition of his works at:
Jan Saudek Gallery in Celetna Street number 1, which is located in the city center, almost on the Old Town Square. The entrance fee is 140 Czk full price, 80 Czk reduced and the gallery is opened daily from 10 am to 8 pm.
And recently, there was launched a feature-length documentary movie about Jan Saudek by the director Adolf Zika, called V Pekle svych vasni raj v nedohlednu (Bound by passion).