Possibly the greatest Czech movie star ever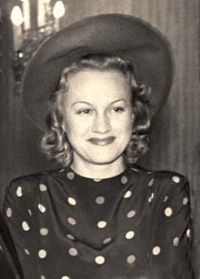 Some people say that the greatest times of Czech country was the period of the First Republic, which lasted from 1918 to 1938, when it was destroyed by Nazis. And as the best period of the history of the Czech cinema are often declared the thirties. It is said that in those times, movie stars were "real stars", glamorous and stylish. There were few of them, from female stars, there were two, who were extremely exceptional and are remembered until today – Lida Barova and Adina Mandlova. Both of them were very beautiful and had interesting but controversial life. It could is discussable, which one of them was more talented or more beautiful, but as Lida Barova had a love affair with Joseph Goebbels, German minister of propaganda, among people is today more popular the other of the two – Adina Mandlova, although she was also imprisoned after the war and accused of collaborating with Nazis. In 1970's she wrote her autobiography, which was later, after the Velvet revolution, also published in the Czech Republic, and thus her popularity was reinforced.
Her autobiographic book is called Dnes uz se tomu smeji (which in English means Today I am laughing over it) and she describes her life and career here were openly.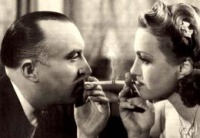 She was born in a small Czech town of Mlada Boleslav in 1910 as the youngest child of for and only daughter and as such was pretty spoilt by his father. But her father died when she was 8. As a young girl, she was often hanging out, accompanied by a man, which was pretty inaproppriate in a small town, so at age of 16 was sent to French lyceum to study there, she was a smart girl, but because of bad behaviour was sent home before getting a diploma. Some time after that she worked as a secretary in her hometown, but soon moved to glamorous Prague, where she started her career as a model and quite soon made it into movies. Her first one was Devcatko, nerikej ne (Girl, don't say no) in 1932. This was a star of a magnificent career. Soon she got another roles and was gaining a popularity and was working also as a theater actress. She started dating a famous actor, who was also a director – Hugo Haas. She became extremely popular and was getting appearing in more and more movies, some of them are popular until today, as for example Panenstvi (Virginhood 1937), or probably the peek of her career – Kristian (1939), where she appeared with a big male star of that times – Oldrich Novy. She was enjoying her popularity, she broke-up with Hugo Haas, but got another lovers, some of them very rich, was wearing beautiful cloths, attending great and wild parties. During the World War II, she got a role in one German movie, but according to her autobiography did not like it in Berlin at all and as soon as she could decided to come back to Prague. And as she wrote there, never collaborated. But after the war, she was imprisoned for collaboration, and accused of having a love affair with evil German protector K. H. Frank, which was not true. The press turned against her and she was almost lynched by a crowd. Later she was released, because there were no proves against her, and as soon as it was possible, decided to leave the country for the United Kingdom. There she tried to continue her career, but was not successful.
During her interesting and complicated life, she had really high number of lovers and four husbands, really happy was only with the last one, a homosexual. Shortly before her death she came back to the Czech Republic, where she died in 1991, but she is still remembered as a great actress and some of her movies are among some Czechs popular, as was already mentioned, even those days.