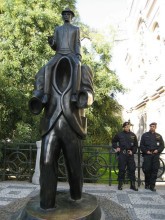 Franz Kafka (1883 – 1924) was one of the major German-language fiction writers of the 20th century. He was born to a middle-class Jewish family based in Prague, at that time being a part of Austria-Hungary.
His unique body of writing — much of which is incomplete and has been published posthumously — is among the most influential in Western literature.
Kafka was born in Prague in 1883, and most of his life spent there, although he died, aged 40, in 1924 in sanatorium Kierling near Vienna. His first language was German, although he was also able to speak Czech quite well.
Without exaggeration; who is well-educated, knows Kafka, however during his lifetime he published only few short stories. He became famous later, such works as novella Metamorphosis or novels The Trial, The Castle and America, which were published posthumously, brought him to world's attention.
His writings mostly concerns about troubled individuals in a nightmarishly impersonal and bureaucratic world.
All his works were written in German, the only noticeable pieces he wrote in Czech were letters to Milena Jesenska, an important Czech journalist, his close friend and the most probably also his lover.
Today, there is quite strong legacy of Franz Kafka in Prague, you can visit his museum, where you can buy correspondences, diaries, manuscripts, photographs and drawings, which have not been comprehensively exhibited in the past. Close to Old Town Square, there is a small square named after him, with his bust by the sculptor Karel Hladik, and also the house no. 22, the Kafka's house.
And an interesting statue inspired by Kafka´s life and work, made by Czech sculpture Jaroslav Rona in 2000, is to be seen nearby in Dusni Street, where Kafka spend most of his life. (at the picture with prague police)
The word "Kafkaesque" is often used to describe situations remanding those from his novels, means those, which are absurd, quite tragic, strange, chaotic… So maybe, if you wander lonely through streets of Old Prague you will also feel that "Kafkaesgue" atmosphere of the town for a while.