The Czech-American Composer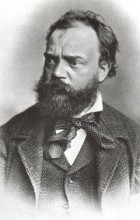 Antonin Dvorak September 8, 1841 – May 1, 1904) was a Czech composer of romantic music, who employed the idioms and melodies of the folk music of his native Bohemia and Moravia in symphonic, oratorial, chamber and operatic works.
Dvorak was born on September 8, 1841 in Nelahozeves, near Prague (then Austrian Empire, today the Czech Republic), where he spent most of his life. He studied music in Prague's only Organ School at the end of the 1850s, and gradually developed into an accomplished player of the violin and the viola. Throughout the 1860s he played viola in the Bohemian Provisional Theater Orchestra, which from 1866 was conducted by Bedrich Smetana
Dvorak fell in love with one of his pupils and wrote a song cycle, Cypress Trees, in attempt to woo the heart of Josefína Čermáková. She married another man, however, and in 1873 Dvorak married her sister, Anna. They had nine children.
Dvorak's Stabat Mater (1880) was performed abroad, and after a successful performance in London in 1883, Dvorak was invited to visit England where he appeared to great acclaim in 1884.
Dvorak lived in America (1892–1895)
From 1892 to 1895, Dvorak was the director of the National Conservatory of Music in New York City. In the winter and spring of 1893, while in New York, Dvorak wrote his most popular work, the Symphony No.9, "From the New World". During three months in 1895, Dvorak wrote his Cello Concerto in B minor, which was to become one of his most popular works.
At the end of 1895, homesickness made Dvorak decide to return to Bohemia. He left New York before the end of the spring term. During the coming years, Dvorak's compositional work centred on opera and chamber music.
Dvorak was director of the Conservatory in Prague from 1901 until his death in 1904. His 60th birthday was celebrated as a national event. He is interred in the Vysehrad cemetery in Prague.