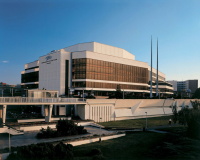 Congress centre Prague, originally the Palace of Culture (Czech: Palác Kultury, now Kongresové Centrum) is an extensive, neo-functionalist building, but the shapes are relatively tasteful, the overall impression is light, especially in sunny weather, and it fits very well into the spot, which is indeed a cross- section of several motorways leading to roots of the large bridge. standing on the edge of Nuselske Udoli, Nuselsky Bridge and Pankracke Namesti, right beside the beautiful metro station Vysehrad.
The decision to build the palace came in February 1975. The Party officials intended the palace to present grounds for large exhibitions, concerts, Party gatherings etc. The competition resulted in the choice of a team of architects led by Jaroslav Mayer. The construction took four years and the palace was opened in 1981.
The project reflects the multiple functions the building has, thus not being symmetrical in shape or interior. There is quite a large public terrace in front of the building, with impressive views on the city. It was re-constructed in 1998- 2000. The major event on the spot was the IMF and the World Bank Summit in 2002.

The Congress Centre, as the building is called since 1995, contains two important halls. The greatest vaunt of the complex is the Congress Hall, which diffuses from the first to the fourth floor. Its design and equipment was created by a group of the front Czech and international experts on acoustics and thanks to it the acoustics of the Congress hall ranks among the best in the world, compared to American concert hall in Boston or London Royal Albert Hall. The air-conditioning system is led through the individual chairs. Volume of the orchestra shell allows concerting of 100 musicians. Of course, there also other halls, places for multiple use, including cultural gatherings and administrative premises.
The Building itself has its unique location in Prague – it can be seen practically from all the side, by which it belongs to architectonics dominants of Prague. In addition, unique view on the world-famous Prague panorama, where Prague castle mirrors in Vltava river in he morning. Walking through this place of random gatherings leads directly to one of the gates to Vysehrad.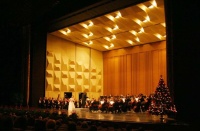 Nowadays, the Congress centre is a place where many foreign vip visitors spend their time. Every year, tens of thousands experts meet there and debate various matters. Even when the building was not liked very much at the beginning, now it hosted the European commission during Czech Chairmanship of Europe abreast, and it became very prestigious.
Address:
5. května 65
140 21 Praha 4
Telephone: 261 172 222
Directions: Right at the -C- Metro station Vysehrad