A limousine among stadiums

The new era of Slavia Praha, one from two best football clubs of the CR at the new stadium in Eden has begun. Their fans have entered the world of luxury and comfort. For this, the opening of the new Slavia stadium was one of the biggest sport events of this year.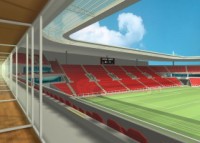 If the fans of Slavia spend last years going to impersonal Strahov, this was a similar change like to change a Skoda Favorit from 1990 for a shiny limousine. The stadium of 'English' style is unique in the CR by its philosophy. A fan should come ten minutes before the start, and leave, when the match is over. openness and friendliness, English style.
The parameters are unique as well – There are two huge screens, 14 stances with refreshments, 45 luxurious skyboxes, a hotel and a few restaurants. The Architect Martin Vokaty, creator of O2 Arena evaluates it as 'a piece of quality, clean architecture'.
The new stadium is even better than the two newest football stadiums in the country – Stinadla in Teplice and Prague AXA arena. Axa stadium of Sparta ws left behind by Eden stadium in everything except similar capacity.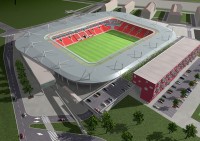 The Stadium has been build in 19 months, the costs were reputedly 40 mil €. The luxury, which was until now provided only for hockey fans in O2 Arena, is finally available for football fans too. "Opening of O2 Arena pushed the hockey culture forward and Slavia stadium will have similar effect. I am sure this is the way how to get rid of stadium violence." said Vokaty, referring to the English style of the stadium.
Capacity:
210 ordinary seats, 40 VIP boxes, 2 huge screens, 14 snack stances
Dimensions:
105×68 metres
Parking capacity:
approximately 1300 spots
Another Parts of the area:
4-star hotel with 150 rooms, some of which have windows to the play-field.
Adress:
U Slavie street, Prague
Tram: 6, 7, 22, 23 and 24. The station name is Slavia
Bus: 136, 213 and 260, Kavkazska station. The station of lines 106, 124 and 139 is 3 minutes away.