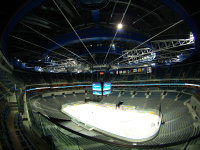 Here in this section you are about to find information on important arenas in the capital city of Prague. Talking about stadiums, we can't do otherwise, than to start with the Great Strahov Stadium (Strahovský stadion in Czech) which is a stadium in the Strahov district of Prague. It was the largest stadium in the world and it is the second largest sports facility worldwide after the Indianapolis Motor Speedway, seating around 220,000. The stadium is also special in the respect we in prague.net look at it from our office windows.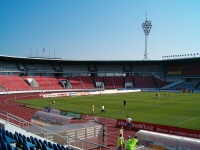 An important and very large venue is the O2 Arena; one of the most modern multi-functional arenas in Europe. The venue for sports, culture, entertainment, exhibits, fairs, and other European events. The idea of building such a huge arena in the country like the Czech Republic came after the "golden era" of Czech ice hockey: winning 4 gold medals in a row in 2003. O2 Arena is the most modern multipurpose stadium in Easter Europe which means, apart from other things, up to 1,500,000 visitors a year, a capacity for 18,000 spectators, 2,460 Club and Luxury seats, 66 Skyboxes, 4 Party Boxes, and 2,900 places in bars, restaurants and cafés. It is quite nicer than the other one,
T-Mobile Arena, which is on the contrary quite historical; the building of Strojnicky palac was finished in 1907, a venue for exhibitions and fairs, giving the foundations for the present stadium. Primarily, it is used for ice hockey, it is the venue of the HC Sparta Prague but it is also often used for music concerts. T-Mobile Arena opened in 1962 as Sportovní hala and can hold up to 12,950 people. Also, every year it is the venue of a very prestigious synchronized skating competition.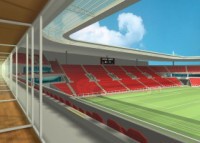 A very beautiful and very brand new stadium, having no competition in quality and friendliness, is the Eden Stadium. There are two huge screens, 14 stances with refreshments, 45 luxurious skyboxes, a hotel and a few restaurants. The Architect Martin Vokaty, creator of O2 Arena evaluates it as a piece of quality, clean architecture'. As opening of O2 Arena pushed the hockey culture forward, the Slavia stadium have similar effect for football.
And finally, the AXA Arena, also known as Sparta Stadium, opened in 1917 and holds 20,854 people. Formerly known as the Letna Stadium (Letensky stadion) and as the Toyota Arena, it is now named after its sponsor, AXA, and combines history with evolution. Some really nice football matches have taken place there over those 100 years.