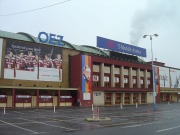 T-Mobile Arena is an arena in Prague, Czech Republic. Primarily, it is used for ice hockey, it is the venue of the HC Sparta Prague but it is also often used for music concerts. T-Mobile Arena opened in 1962 as Sportovní hala and can hold up to 12,950 people. Also, every year it is the venue of a very prestigious synchronized skating competition.
T-mobile Arena is a large multi-functional building that can be easily adjusted for various events; not just ice-hockey matches and music concerts, but also exhibitions, fashion shows, etc.
The Ice Hockey World Championships were held there, in whole or in part, in 1972, 1978, 1985, and 1992. The arena hosted the 1980 Davis Cup final, where Czechoslovakia defeated Italy.
History: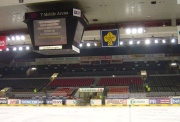 The building of Strojnicky palac was finished in 1907, a venue for exhibitons and fairs, giving the foundations for the present stadium. In 1952 it was decided the builing will be rebuild into a sport hall. But it took until 1958 for the present arena to start to spring. Using the 6 frame pillars of the old object, it was rebuild on high technical level.
The sport hall was opened in 1962 for the first time. The very same year, there was a World championship in figure skating already. Ever since, there were hockey games of Sparta, who moved there and started their career in the 1st league.
In 1990 Sparta managed to officially gain the venue as their home stadium for 30 years. It must be said they invest high amounts of money into the hall, even when some do not have to think so.
How to get there: Take the metro C to Nadrazi Holesovice, it is 5 minutes away by walk.
How to get there: Metro C to Nadrazi Holesovice, from there 5 minutes walk.
Adress: At the Vystaviste Exhibition Grounds in Prague 7