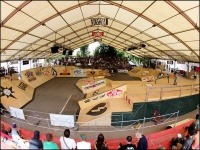 Stvanice Island in Prague has been the place of sport for many years. There is a historic hockey stadium, where the Czech national team won the world championship for the first time. You can visit some tennis courts or the relatively new skateboard park.
Stvanice Skatepark has a history dating to 1993, since that time it has became recognised not only in the Czech Republic In the world as well. This park is namely very modern and hosts prestigious competitions such as the Mystic Sk8 Cup.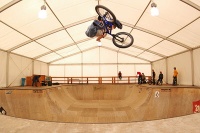 Mystic is probably the only reason for riders from the USA or Australia to come to the Czech Republic. Every year, about 10.000 ppl come to make the audience, the atmosphere is unique, also because most of who come know what is going on in the skate world. And also because the world comes to them – over 200 professional riders from 25 countries, including the world top from the USA, Brazil, Australia a Europa.
The world best riders will compete in three disciplines – streetstyle, vert and bowl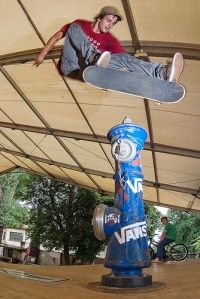 for the main prize of 50 000 $.
The bowl discipline is new here, and very attractive, as the park was designed by legendary characters of Skateboarding Dave Duncan a Brian Patch.
The area is designed mostly for skaters, but also BMX and in-line riders come to ride. About 50-100 guys come every day to sport there, also the place is indeed legendary and very important for the skate scene of in the Czech Republic. The city of Prague was making problems two years ago, but than all realized they need the Skatepark – a lot of youngsters go there, who would than have basically nothing to do. The youngest who regular go there are about 8 years old.
The time has changed and now even the Prague Mayor Bem sometimes appears there to show his support. He and the city have donated for roofing, so now it is possible to ride there even in winter. Some come after school in the afternoon, after 8pm it is mostly for professional riders and for sk8 only. The lights are on until 10-11 pm.