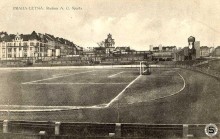 The AXA Arena is a football stadium in Prague. It is the home venue of Sparta Prague and often the home stadium of the Czech National Football Team. The stadium opened in 1917 and holds 20,854 people. Formerly known as the Letna Stadium (Letensky stadion) and as the Toyota Arena, it is now named after its sponsor, AXA.
The centre-located AXA arena is 1,5 km of air line from the Prague Castle. The inside provides parking space for 50 cars,2 buses and 8 technical vehicles. The viewers has a chance to park in front of the stadium, with possibilities of incredible 1200 automobiles and 120 buses.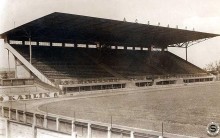 Volume of the play field are 105×68 and so satisfy the UEFA criteria. The stadium was reconstructed in 2005, when the audience part was renowned, new lights were installed, a heating and watering system was placed under the grass, just to ensure the surface would be perfect.
Since the beginning the stadium is used as a tribune for the happenings in the Milada Horakova street and the large "Letenska plan" behind it. During the Velvet revolution there were some 800,000 people.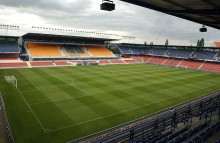 Sparta Prague (Czech: AC Sparta Praha)
It is the most successful club in the Czech Republic and one of the most successful clubs in Central and Eastern Europe. Sparta was long the main source for the Czechoslovakia national football team and, after the dissolution of Czechoslovakia, the Czech Republic national football team, however lately this has ceased to be the case, as the best Czech players almost all now play in higher-paying foreign leagues. There are a number of outstanding players who have played for the Sparta over the years. Sparta play at Prague's AXA Arena (called Letná Stadium).
Adress: Milady Horákové 1066/98, 170 82 Praha-Bubenec