The Arena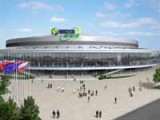 Sazka Arena in Prague is one of the most modern multi-functional arenas in Europe. It is a venue for sports, culture, entertainment, exhibits, fairs, and other European events.
The idea of building such a huge arena in the country like the Czech Republic came after the "golden era" of Czech ice hockey : winning 4 gold medals in a row.
Sazka Arena is the most modern multipurpose place in Easter Europe. Sazka Arena, means, apart from other things, up to 1,500,000 visitors a year, a capacity for 18,000 spectators, 2,460 Club and Luxury seats, 66 Skyboxes, 4 Party Boxes, and 2,900 places in bars, restaurants and cafés.
Arena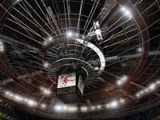 The arena is quite multifunctional, as it allows (according to the owners) for more than forty functional or technological variations. From the ice hockey hosting to the recent concert of Joe Cocker. It can take in up to 18,000 spectators.
Facilities include a huge video cube, closed circuit TV system, display panels and state-of-the-art acoustics, with hi-tech lights illumination
There are extensive shopping areas with comprehensive facilities, a great variety of bars and restaurants, as well as prestigious areas for press conferences, workshops and congresses.
Universal hall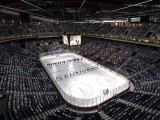 The Universal Hall was build for smaller and more commercial events. The total capacity of the Universal Hall, connected to the neighbouring arena by a pedestrian corridor, is about 2,300 seats.
The Universal Hall are used for events such as discotheques, balls, film and theatre performances, dance shows, sports races, concerts, meetings, conferences and congresses, fashion shows, TV programmes, gala evenings, banquets, exhibitions and fairs.
References
It hosted the Final Four of the Euroleague in 2006. Sazka Arena has also hosted a number of concerts since its opening including Madonna, Depeche Mode, R.E.M., Queen, Luciano Pavarotti, Phill Collins, Slade, Red Hot Chili Peppers, Guns N' Roses, Pearl Jam, Bryan Adams, Christina Aguilera, Shakira, Linkin Park, Gwen Stefani and others.
Problems with construction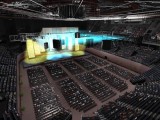 The original idea was to build the arena in time to host 2003 world ice hockey championship tournament, but due to problems with investors and surprisingly with distrust of the government it was finished in 2004, also Czech the ice hockey governing body had to switch that tournament to Finland. Anyway the opening ceremony was a great spectacle The arena's main backer then became Sazka a.s., a Czech betting company. Many, especially various media criticized the whole idea, just to turn over and praise it, when it was finished.
Future of the Arena
Sazka Arena should be in the future enhanced by the Green Island multipurpose centre comprising an international hotel, congress centre, shopping and office areas, including a multi-storey car park and extensive public park.
Location
The arena is easily accessible to those coming by car as well as by public transport.

Metro, a bus terminal, tram stops and a railway station are just a few minutes walk from the arena. The station name is Ceskomoravska
Adress: Ocelarska 2, Prague 9
(+420) 266 121 111
www.sazkaarena.com
Pictures from: sazkaarena.com