Sazka Arena – the most modern multipurpose arena in the world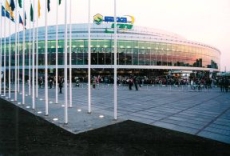 Sazka Arena took up activities on 27 march 2004. President of the Czech Republic, Vaclav Klaus cut the tape at about 10.35 p.m. and officially opened the arena. All evening was in token of music, dance, colours and lights. 112 sportsmen came with 150 medals which they had from Olympic games. Famous singers and ice hockey legendary players changed on stage and opened promising future of this wonderful building. Not long after opening, the Ice Hockey World Championship took place in Sazka Arena and more than 400 000 spectators visited ice hockey matches.
As you can see on the websites of Sazka Arena, its capacity is up to 18,000 spectators, 1,500,000 visitors came during a year and for example there are 2,900 places in bars, restaurants and cafés. This huge building has 6 floors and floor space is 35,000 m2.
Sazka Arena is venue for various events in Europe – sports, culture, entertainment, exhibits, fairs and others. There are also big plans for the future. An international hotel, congress centre, shopping and office areas, including a multi-storey car park and extensive public park will be situated on Green Island multipurpose centre. The centre benefits from the great popularity of Prague as a tourist destination and the advantages of easy transport access.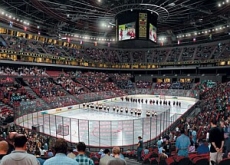 Sazka Arena is located in the northeastern part of Prague, it is about 10 km from the city centre. It is very easy to get there by car or by public transport. For example metro, railway station, tram and bus stops are nearby the arena. You can park your car inside the arena, there are about 280 parking places or there is also multi-storey car park for 1,400 places.
Sazka Arena is definitely worth a visit. Currently you can buy tickets for the world-famous musical Mamma Mia! which will be presented on 10–18 October 2007 for the first time at SAZKA ARENA. This musical has been translated from English into eight languages and more than 30 million viewers has seen the musical since its 1999 debut. You can also see American singer Gwen Stefani who will perform on 20 October 2007 and legendary Joe Cocker, "the father of white soul", who will perform on 12 December 2007.
Devilish book is coming back to Prague The Czech Republic – Nation of good beer