The Czech Republic – Nation of good beer
Every tourist in foreign country is curious about most popular or national drink in this country. Mexico has its Tequila, Russia has its vodka, France has its wine, Scotland has its whiskey, Greece has its ouzo, Turkey has its raki and this way we could go on and on. The most popular and national drink in the Czech Republic, besides Becherovka, is beer.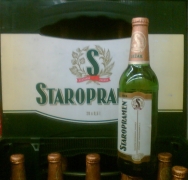 Czechs inherently belong to the history of beer production. Beginning of production of light, clear, low-yeasty beer in Pilsen meant birth of style, which every country all over the world try to copy. Czech hops and Moravian barley is exported to various countries of the world, where people want to boil beer the most similar to the original.
Pilsner Urquell
History of the Czech brewing industry is inseparably connected with Plzensky Prazdroj, known as Pilsner Urquell. New style of beer production originated there in 1842 – light beer. Later appeared lager beer and since then similar beers began occuring all over the world and got the name "pilsner". But none of them has the same taste as Pilsner Urquell because nowhere is so soft water like in Pilsen.
Prague's Staropramen
One of the most famous beer in the Czech Republic is Staropramen. This brewery bet on traditional production procedure, it means open fermentative tanks and beer maturing in oak barrels. Beer fans affirm that only this way beer gets true characteristic quality. On the websites of Staropramen, you can read that the "Staropramen" brewery, located in Smichov, was established on 23 October 1869. The first batch of beer was brewed 1 May 1871 and on 15 July the sale began. In 1911 the brewery registered trademark Staropramen.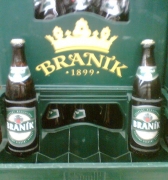 Every year brewery festival takes place in Prague. The first festival took place on 22 June 2000 and within the frame of the festival it was decided to introduce Staropramen Granat into the brewery portfolio. It is a semi-dark, full-flavoured lager. The first batch of Staropramen Nealko was brewed in 2005, it is a non-alcoholic beer. Staropramen also produce Dark beer, it is soft and smooth with a sweetish caramel-like taste. Pivovary Staropramen a.s. is currently the third largest beer exporter. They exported to 36 countries worldwide.
Branik
The next known beer in Prague is Branik. The "Branik" brewery was established in 1899, but Branik is currently moving to Smichov to Staropramen brewery, which is its main brewery. The bottled beer Branik is the second brand leader in the Czech Republic. According to plans, production of beer will increase doubly in Smichov.
Other beer brands in Prague
Every region in the Czech Republic has its own beer. The oldest Prague brewery is U Fleku, where majority of Prague tourist is headed for. This brewery is located in the centre of the city in Kremencova Street and was established in 1499.
There are some other brands of smaller breweries you can see and visit in Prague: Pivovarsky dům (Lipova 15), Novomestsky pivovar (Vodickova 20), U Bulovky Richter Pub (Bulovka 17/373), Klasterni pivovar Strahov (Strahovske nadvori 302/10), Suchdolsky Jenik (Kamycka 129), Pivovar U medvidku (na Perstyne 7).
Jara Cimrman: "It's better to have beer in stomach than water in lungs".
Sazka Arena – the most modern multipurpose arena in the world Ice hockey in Prague